Western PA HIMSS Member Spotlight
March 2015
Sukanya Kadam
MSHCPM 2015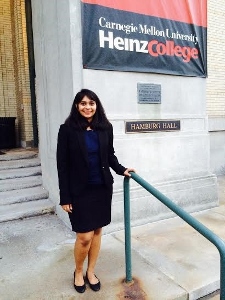 We selected a student for this month's member spotlight.  Student involvement in our local chapter and at the national level is essential, allowing for the involvement of future healthcare IT professionals and providing current industry professionals with a view into the academic world.  Sukanya Kadam is a second year student at Carnegie Mellon's Heinz College in the Health Care Policy and Management (HCPM) program.   Kadam currently interns at Treatspace, a software platform connecting providers, hospital organizations, and patients with the goal of optimizing collaboration, patient engagement, and referral management (www.treatspace.com). 
WPHIMSS:  Please tell us a bit about your background
Kadam: For as long as I can remember, I was always fascinated with how living organisms worked – only my learning approach has evolved. It has become technologically advanced – by learning cutting edge lab techniques followed by integration with IT. It has become more forward-looking with an understanding of implementing science to impact healthcare systems.
In high school, I elected to take subjects like Biology, which further developed my interest in life sciences. This led me to pursue a bachelor's degree in Biotechnology at Pune University, India. During my undergraduate studies, I conducted a research project that included an analysis on microorganisms inside cars, which was published in the National Journal for Integrated Medicine in 2013. I then completed an Advanced Diploma in Bioinformatics at Bharati Vidyapeeth University in India, where I learned about software tools for understanding biological data. While at Bharati Vidyapeeth University, I interned at Sahyadri Hospital, which exposed me to the health care industry and inspired me to attain the skill sets that would enable me to make a valuable impact.  For which, I am currently pursuing my masters in Health Care Policy and Management at Carnegie Mellon University.
Last summer, I interned at Pittsburgh Life Sciences Greenhouse which is a non-profit venture capital investment firm as a market research analyst. My project involved market research on the Healthcare IT industry, and we analyzed the $4.3B market for the company's strategy planning and explored various investment options.
I am anxious to continue satisfying my desire to learn and to have a meaningful impact in the healthcare industry after completing my graduate studies and throughout my life. 
WPHIMSS: What interests you about the healthcare IT space?
Kadam: Healthcare is evolving faster than ever, and it is being made more efficient with the onset of Health IT which is an important component in this change.  It is a means to improve the quality of care provided and access to care using technology. What fascinates me the most is that we don't need to rely on the conventional healthcare model for some processes like visiting a doctor or getting prescriptions. Health IT has optimized many processes to make it more efficient and convenient. And it is not just for patients but for everyone involved in the health care system which include healthcare providers, insurance companies, ACO's etc. And I believe that Health IT will change health care in a really big way, and that's where the future lies. Even while interning at Pittsburgh Life Sciences Greenhouse, most of the start-ups that came for funding were in Health IT space. 
WPHIMSS: What projects have you or are you currently working on at Heinz?
Kadam: Currently, I'm working with Medtronic to identify new markets and new applications for their balloon used in Vertebral Kyphoplasty procedure in order to develop their business and increase the division revenue currently at $3.131B. I'm also working with Center for Medicare and Medicaid Services (CMS) to analyze their cost of dental service on Medicare beneficiaries over time and to make a data brief for their website. In addition, I'm working as a Research Assistant for the HCPM Program Director, Jim Jordan, to improve our program ranking through market research.
My past projects include:
• Improving revenue cycle management for Children's Hospital of Pittsburgh
• Conducting market analysis to identify key opportunities to increase revenue and take a share of the $2B spent on outsourced consultants for the Veterans Engineering Resource Center (VERC)
• Improving call center efficiency and implementing six sigma for the Public Works Department at Allegheny County
• Using multiple criteria decision analysis to analyze customer feedback and improve product experience for Aesynt (Former McKesson) 
WPHIMSS: Can you tell us about your work at Treatspace?
Kadam: I'm working with Treatspace, one of PLSG's portfolio companies as a market research analyst. Treatspace is a start-up in the Health IT domain, and they have products connecting patients, providers and health professionals. I'm analyzing different geographies and market factors that would influence the company's expansion plans. 
WPHIMSS: What are your career goals post-Heinz?
Kadam: I'm really looking forward to utilizing my skills and experience to make valuable contributions to the healthcare industry. I would like to work towards bringing innovation to the industry and improving the health outcomes such as quality, increased access and cost reduction. 
WPHIMSS: As a student, what do you hope to gain from participation in WPHIMSS? 
Kadam: I feel WPHIMSS is an excellent platform for students like me to get the latest information and news on technology with Healthcare IT News, and to meet professionals in the industry and gain new perspectives. I hope to network with influential individuals from different industries for a broader outlook and better understanding.
---
Matt Kesinger and the eTHR
Matt Kesinger started out his career in the field of medicine working as an EMT in the New Hampshire wilderness and Boston while he established the prerequisites for medical school. He gained an interest in finding technological solutions for non-profits, and he is now currently a 4th year MD student at the University of Pittsburgh on a research fellowship.
In lower resource health systems, especially in Latin America, hospitals are currently run by politicians who typically hold their positions for 5 years. The heads of these hospitals have not tried to implement them because the benefits that would come from them would not be seen until long after their 5-year term was complete. There also has been a lack of referrals and services that communicate with each other, and the funding is sparse.
That has recently changed with the creation of a real-time EMR that automatically populates the registries, known as the Electronic Trauma Health Record (eTHR). Built by Input Health and funded by both the American and Canadian governments, the tablet-based eTHR automates intake, operative notes, and the discharge summary. It took approximately 6 months to build and was piloted on March 1, 2014 at Tygerberg Hospital in Cape Town, South Africa. To date, it has served over 8,000 patients, and data completion of patient records has increased from 38% to 90%.
eTHR is also being implemented in Latin America, and the NIH is providing grants to also implement the system in Columbia, Paraguay, and Guatemala. Twelve other location have also asked to have the system installed. Ideally the system would go into hospitals without an EMR because it is difficult to implement into those that already have one existing.
Hospitals benefit from this system because it can generate in real time how long it takes to see a patient, the number of consultations,  the time from ED to OR, and the number of patients seen each day, week, etc. This functionality is what makes it desirable to the politicians that run the hospitals.
The system was designed by physicians and surgeons; however, no vendor currently wants to support eTHR because it takes away from their profitability. The point is to create a form of responsibility and change the culture of how information is kept and used – ultimately, how lower income hospitals can better serve their patients.
Currently it takes an hour to interface with any system, and it costs less than half of a Latin American nurse's salary for the software. Implementation takes about 3 months, which is the most expensive part due the expenses of having an individual reside there.
The future of the system includes expanding it to acute care surgery and trauma surgery. The team is also working with a microbiologist to create a system for infectious disease.
Matt's current role on the project includes public relations and promoting information and awareness about eTHR. He spent 3 months last fall traveling to hospitals, and next month he will be going to Paraguay for 1.5 months, followed by Bogotá, Colombia.
Other locations using the eTHR include Cali, Colombia, where the system was implemented in two hospitals. Matt visited this location in November, and he also attended the Pan America Trauma Conference in Panama where the eTHR was a roaring success. Potential support is being discussed in San Francisco with the American College of Surgeons, as well as in Philadelphia.
A very special thank you to Matt for sharing his story with WPHIMSS. Matt plans to continue his career in trauma surgery. Please contact Matt at matthewryankesinger@gmail.com for more information on this health innovation!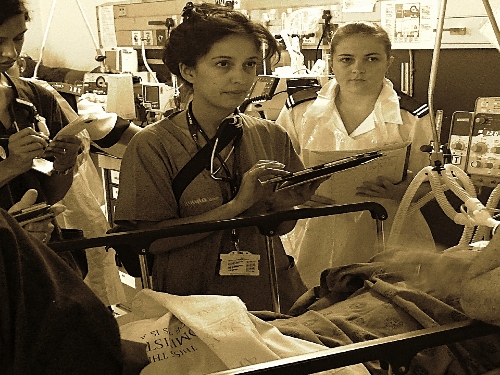 ---
Member Spotlight: January 2015
Bonnie Anton, MN, RN
Our January Member Spotlight is focused on Bonnie Anton, a current Informatics Nurse at UPMC St Margaret Hospital.  Anton served as President of the WPHIMSS board during 2009-2010 and made significant contributions to student membership while also playing a role in the development of the Central PA chapter of HIMSS. 
WPHIMSS: What does your work as an Informatics Nurse include?
Anton:
• Facilitate project planning sessions and project plan development to support EHR processes
• In order to utilize the EHR to maximum efficiency, assists in providing end users with EHR education as it relates to general usage practices and various clinical documentation processes
• Troubleshoot end users' current processes and recommends areas for operational improvement and process redesign
• Provide support for clinicians by answering requests received through the daily eRecord rounding processes
• Consult with clinical end users to determine areas for process improvement
• Work with staff to ensure understanding and rationale of new EHR processes
• Assists in the eRecord training of SMH new hire clinical staff
• Provide support and one on one training for other UPMC facilities' eRecord implementations
• Provide to the clinical support staff monthly eRecord order set usage reports
• Chairperson of the biweekly multidisciplinary SMH Order Set Committee meeting
WPHIMSS: What brought you into Health IT?
Anton: In the mid 1990's there was an organization in Pittsburgh called "Tri-State Nursing Computer Network (TNCN)".  The mission was to serve as a resource organization to support nurses seeking to expand their knowledge and use of computer applications within the healthcare environment. A friend and colleague, Ramona Nelson, was president of this organization and kept encouraging me to join and learn about the new trend in healthcare. I thought it was a good idea but somehow never got around to getting a membership, so Ramona decided to buy me a gift membership.  Obviously I now felt obligated to start attending the meetings.  After the first couple of meetings I decided "this is for me" and joined committees and became an active participant.  When UPMC embarked on the eRecord implementation and asked for volunteers for various committees, I felt qualified to volunteer and contribute towards the ultimate goal of an electronic health record for UPMC patients.
WPHIMSS: What do you love most about what you do?
Anton: It is rewarding to interact with the clinical staff, listen to their issues and offer solutions.  It is interesting how many times the staff will think a problem is with the eRecord but after listening to all the details, they realize it is not an eRecord issue but actually a workflow issue. A good informatics nurse has to be a good listener who is non-judgmental!
WPHIMSS:  What are your best memories serving as WPHIMSS President?
Anton: I am very proud of the impact that was made in student involvement and collaborating with national HIMSS in the development of a Central PA chapter of HIMSS.
WPHIMSS: Can you identify any areas for the chapter to grow and develop? What do you hope to see as the chapter continues to evolve?
Anton: WPHIMSS has to continue:
• To be a regional resource for all users of technology within healthcare 
• To offer multidisciplinary educational opportunities regionally as well as collaboration with national HIMSS and the Central PA chapter of HIMSS.  These can be face-to-face participation, which offers networking experiences or the use of educational webinars
• Offer members guidance in obtaining certification and HIMSS Fellowship status
• To recruit more active student involvement 
---
Member Spotlight: November 2014
Sean O'Rourke
President of Consillient Solutions, LLC, and CIO with the HCI Group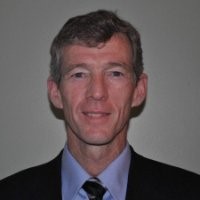 Sean O'Rourke, President of Consillient Solutions, LLC, and CIO with the HCI Group, is a seasoned health IT professional specializing in strategic planning, process analysis, and requirements definition.  His background spans time spent at Accenture, UPMC, and the HCI Group.  O'Rourke wrapped up his career at UPMC as CIO of Service Lines & Products before moving on to serve as President of Consillient Solutions and CIO of the HCI Group.  O'Rourke is an active HIMSS member and served on the WPHIMSS Board of Directors for ten years, including a term as President from 2004-2005.    
WPHIMSS: Tell us about your current work at Consillient Solutions, LLC.
O'Rourke: I am currently working on definition and delivery of a new patient management application for the home health services division of a global company. I have the opportunity to participate in a multi-disciplinary team, confirming global customer requirements, defining the initial product and roadmap and executing implementation and deployment.
WPHIMSS:  What lead you to a career in health IT?
O'Rourke: My formal education was in Industrial Engineering, which I chose because it seemed to be closest to the people doing the work, which appealed to me.  I had tried to get a job after undergraduate school in a hospital as what they referred to as a Management Engineer, but was unsuccessful.  I returned to grad school and took a job with a large consulting firm (another company I had unsuccessfully attempted to join after undergrad) which got me into IT. As I was starting my family, I had an opportunity to join a hospital IT department and 'get off the road'. So healthcare has always been attractive as a way of doing something positive and people-centric and the IT part was a bit of serendipity.
WPHIMSS:  What do you love most about what you do?
O'Rourke: In addition to the 'people-centric' nature of healthcare, I love the challenges of all aspects of delivering solutions in all sectors of healthcare, but especially in and for the Provider sector.
WPHIMSS: Tell me about your involvement/role with WPHIMSS.  What are your memorable events with the chapter?
O'Rourke: I have been a member of HIMSS since 1998 and started to be involved in the WP chapter in 2003 as a Board Member at Large.  I served as president of the WPHIMSS Board 2004-5 and continued to serve a Board Member at Large until 2012.  My favorite events are consistently the ones that involved clinical and IT leadership from regional health care facilities presenting their approaches toward and progress on implementations at their organizations.  Also interesting, from a different perspective, were the activities surrounding WPHIMSS' involvement in advocacy events in Harrisburg and collaboration with Delaware Valley and, more recently, Central PA HIMSS chapters.
WPHIMSS:  Can you identify any areas for the chapter to grow and develop?  What do you hope to see as the chapter continues to evolve?
O'Rourke: I think that all professional society regional chapters have a shared challenge of remaining relevant as technology extends the reach of national and international offerings, particularly in the face of decreasing budgets for extramural activities and increasing demands on time.  I think that there is still significant value in face-to-face events and meetings, particularly ones that focus on delivery of and funding for solutions that promote wellness and support patient care.  I'd like to see the Chapter continue to establish create topics and approaches that bring people in the region for these types of events.    
---
Member Spotlight: September 2014
Tom Johnson, MBA, CPA
Chief Information Officer, Penn Highlands Healthcare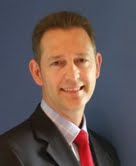 Operating as a healthcare organization today means finding a sustainable balance between multitudes of items, including superior patient care, cost saving measures, and regulatory demands.  Across the country, hospitals and medical practices have been scrambling towards Meaningful Use Stage 2 attestation since the beginning of April.  For Stage 2 attestation, hospitals must prove that their implemented EHR increases patient engagement, is capable of transmitting care summaries across multiple settings, and comply with greater requirements around e-prescribing and lap results, according to CMS. 
So far, Stage 2 attestation results have been underwhelming at best, with only 78 hospitals attesting as of August 1, according to CMS data. One area hospital, however, can proudly say they were able to attest in April. 
Penn Highlands Dubois attested for Stage 2 on April 7, one of, if not the first hospital in the nation to do so.  This accomplishment was made possible due to foresight, dedicated planning, and a hardworking team, according to Penn Highlands CIO, Tom Johnson.  "We started our preparations when the HITECH came out back in early 2009," said Johnson.  His organization worked on Stage 1 since early in 2010 and focused its efforts on "exceeding every measure, shooting for 100% in every category, including all the operational measures."  Ultimately, Johnson credits the organization's team of leaders and IT professionals for the success.  "Their creativity, knowledge and passion for their work is really what made this all happen," according to Johnson.  
As hospitals across the organization continue to grapple with meeting Stage 2 objectives, we congratulate Johnson and Penn Highlands Dubois on their well-deserved accomplishment!